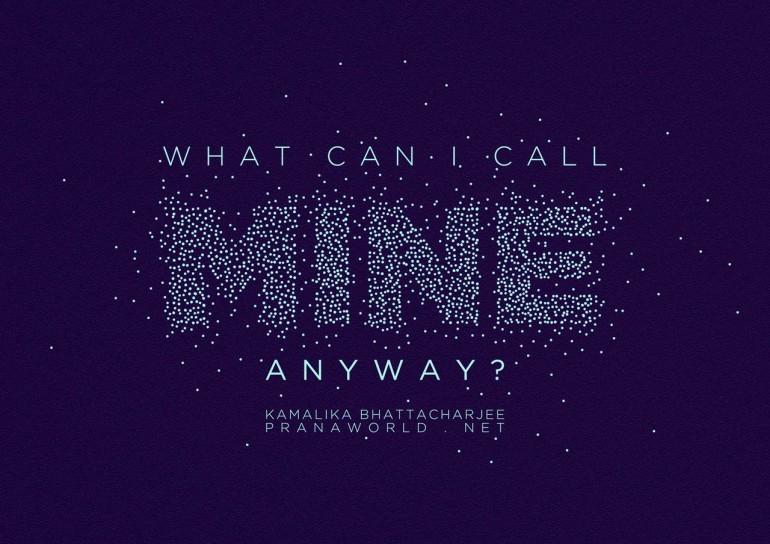 Thoughts of a Lightworker
Have you ever realized that we are all completely made of borrowed stuff? That, there is nothing we can call our own? Not even our Soul!
Ponder on this:
Our physical bodies are provided forms by our parents. Each cell, each atom, each drop of blood in the physical body is "borrowed" from the parents.
They in their turn, have "borrowed" it from our grandparents and the story thus goes backwards right upto grandmother Eve who the scripture tells us, was created by a rib borrowed from Adam.
Adam in his turn was created by God who took the materials for his body from the five elements!
The etheric or bioplasmic body is an integral part of the "borrowed" physical body.
The Emotional body is also equally "borrowed" in the sense that our emotions are all conditioned by the seniors of our families, social background and our respective cultures. Responses to grief for example, differs from culture to culture. When a loved one dies, we cry while in some cultures, they make joyous celebration, as the soul is now returning "Home!"
The Mental body is formed on "borrowed" concepts, value systems and other such ideas which are taught to us from childhood by parents, teachers, peer groups and the books we read. Our exposure to the thoughts of scientists, philosophers, economists, spiritual leaders, artists and writers further form our ideas and thoughts. No way can a human being avoid the influence of socio-cultural conditioning of his time.
Neither is our Soul owned by us! Theosophy explains that our souls are sparks of Divine Energy. So both our incarnated and Higher Souls are "borrowed" from God.
The only thing we can be sure of, is that we and God are one!
Does it not, therefore, logically follow that, if we are all made of "borrowed stuff" where is any reason for being proud? Because pride stems from the concept of I, ME, MINE – a concept which has no basis in truth. There is NOTHING CALLED MINE in our entire get up. Right?
It also logically follows that if we are parts of God, then our perspective of life should automatically be the same as God's perspective of life – i.e. loving kindness, compassion, de-attachment and impartiality – all finally culminating in the concept of oneness with all.

Aren't these the qualities we are supposed to cultivate in order to evolve as souls and be ultimately God like in the end?
Think about it while reading the SOHAM poster next time.