Rose quartz, with its gentle pink color, is known as the stone of love. It transmits energies of compassion, harmony, peace and healing that can transform lower negative emotions such as anger and resentment into the energies of love. Therefore it can provide emotional healing from pain, fears, resentment, stress and anger, bringing about higher degrees of peace and calmness. It basically gives the ability to see goodness in oneself and others.
Rose quartz, because of its color, is believed to provide deep sense of personal fulfillment, contentment and love. It plays an important role in emotional healing. It is also often used to increase self-esteem and self-worth by increasing the love and forgiveness towards oneself.
Because of its ability to transmute sorrow and negative emotions into love, rose quartz is recommended for counselors and psychotherapists to wear when they are counseling with their patients to minimize contamination.
Known as the Heart Stone, rose quartz has been widely used as a love token as early as 600 BC and is still used as an important talisman to improve relationships. Rose quartz is very effective in attracting love, intimacy and to create closer bonds with family and friends. It also increases harmony and peace in the environment.
Since rose quartz activates the heart chakra and brings about higher emotions and love, which is necessary for spiritual development, rose quartz is also considered an effective crystal for spirituality.
Rose quartz, a silicon dioxide crystal, is one of the most common and valued varieties of the quartz family. Its name is derived from its soft pinkish color that ranges from pale pink to deep reddish pink. It is usually found in massive form as the impurities of titanium or manganese, which gives it its hue, prevent the growth of large individual crystals. However, it sometimes grows in clusters of small prismatic crystals. Rose quartz vary in clarity from opaque to translucent to a foggy transparency.
Most of the rose quartz currently comes from Brazil. There are also sources in India, Madagascar, and USA.
Rose quartz is not so popular as a gemstone, as it appears cloudy because of its impurities, which is not suitable for the purpose. Rose Quartz was honored by the Tibetan and Oriental cultures, and continues to be one of the major carving stones of China.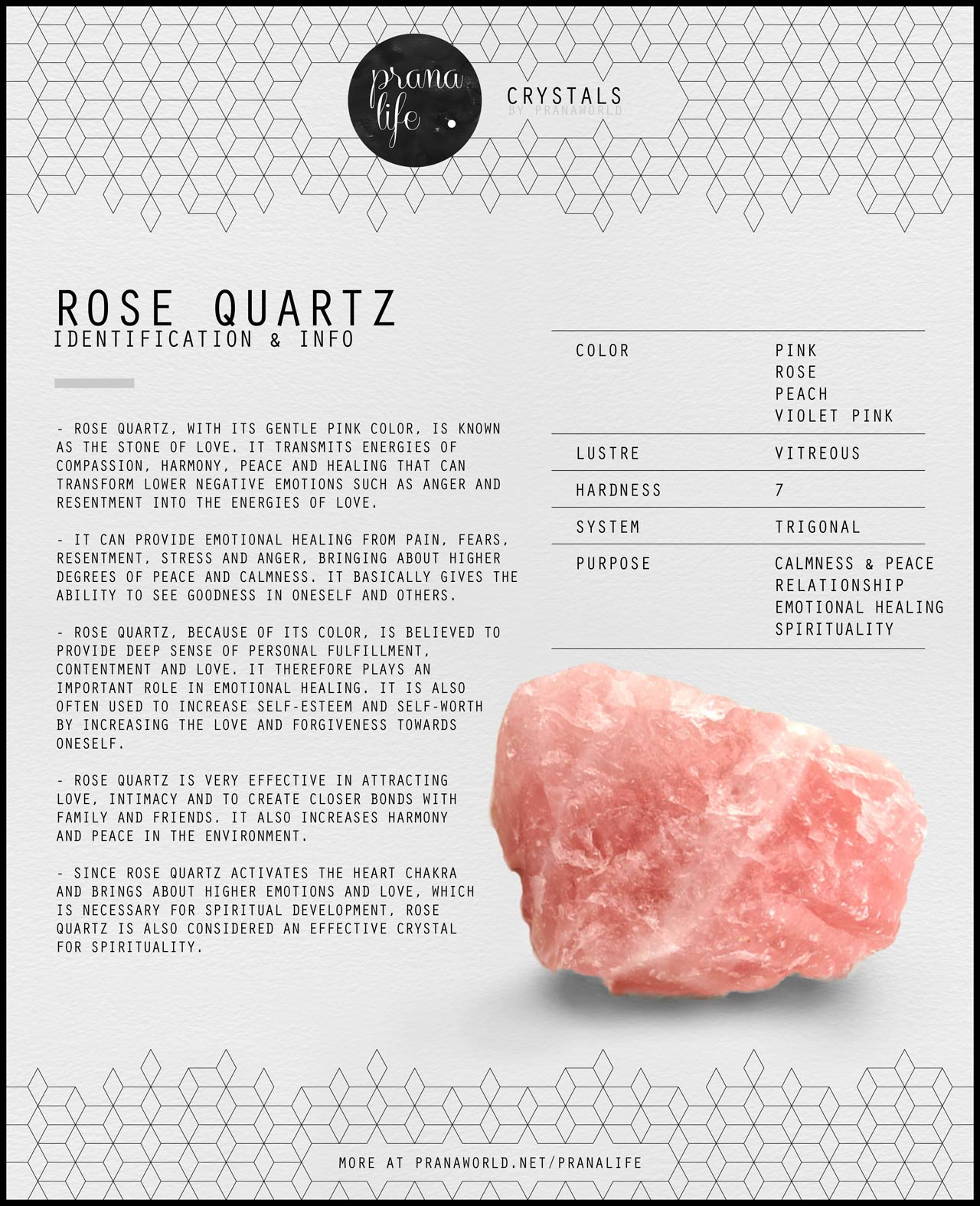 References
Hall, J. (2003). The Crystal Bible. Walking Stick Press
Lilly, S. S. (2003). Crystal, Colour and Chakra Healing. Anness Publishing Ltd.
Master Choa Kok Sui. (1998). Pranic Crystal Healing. Institute for Inner Studies Publishing Foundation
Robert Simmons, N. A. (2007). The Book of Stones: Who They Are and What They Teach. North Atlantic Books
Rose Quartz Meanings and Uses. (2009). Retrieved from Crystal Vaulats: http://www.crystalvaults.com/crystal-encyclopedia/rose-quartz
Harton, R. A. (2002). Rose Quartz. Retrieved from Crystal Jewelry: http://meanings.crystalsandjewelry.com/rose-quartz/