"To achieve a balanced pranic diet, it is advisable to prepare dishes having many colors." Master Choa Kok Sui
Basically one of the ways to know the dominant color prana of food and vegetables is to look at their color. Carrot in this way has a lot of orange prana as green vegetables have lots of green prana. However this approach is not always correct, stated by Master Choa Kok Sui; for example although watermelon is pinkish-red in color, it hardly contains any red prana.
Lettuce, being a green vegetable, contains tremendous amounts of green prana, which is good for mild cleansing of the body.
Green prana has basically cleansing, decongesting, disinfecting and detoxifying effect that is helpful in treating a number of ailments.
In traditional herbal treatment, it is believed that lettuce is cool and wet, which has purifying effect on the blood. It is therefore a good solution for ailments, caused by overheating such as fever, heatstroke and jaundice. Lettuce can also be helpful in treating headache and anorexia.
Lettuce contains a number of beneficial micro-nutrients including Fe and Mg. It also provides Vitamin A, K and C.
Fe (Iron) is one of the most vital elements that help in proper functioning of the bodily systems while Mg (Magnesium) is good for muscles as well as the nervous system.
Although all types of lettuce promote health, the darker the green, the more benefits it can provide, such as romaine.
In general lettuce helps in:
1. Cleansing the Body and Purifying the Blood – Having a great amount of green prana basically helps in cleansing the whole body as well as purifying the blood.
2. Keep the Heart Young – Vitamin C and Beta-carotene, make lettuce one of the heart-healthy greens. They basically work together to prevent the oxidant of cholesterol. Oxidation of cholesterol creates a sticky substance, which forms plaques in the artery walls and can block off the blood flow. This in turn causes heart attack or stroke. Besides Vitamin C and Beta-carotene, fiber also helps in lowering the cholesterol level.
3. Keeping the Mind Alert and the Body in Good Health – Lettuce is basically rich in mineral salts with alkaline elements and is low in calories. Therefore to restore your acid, you can add lettuce to your diet. Its green prana further has soothing effects on the body and mind.
4. Treatment for Constipation – Being rich in cellulose, lettuce encourages intestinal movement. It therefore helps in curing constipation. Lettuce is also helpful in colon cleansing as a result of having a great amount of green prana.
5. Preventing Insomnia – Having green prana as well as Lactucarium, makes lettuce a useful vegetable to promote a peaceful sleep. It is therefore recommended to have a few leaves of lettuce before bed if you find yourself having difficulty to sleep.
6. Treatment for Anemia – The significant amount of Iron found in lettuce helps in treating anemic patients. Taking lettuce is thus recommended for women in their menstruation cycle.
7. Bone Health – Vitamin K and Mg basically increase bone mass and promote muscular health.
8. Healthier Nervous System – Vitamin K as well Mg is also good for the nervous system and decreases the chances of Alzheimer disease by limiting neuronal damage in the brain.
9. Preventing Infection – Having Vitamin C and green prana in abundance, makes lettuce a helpful vegetable to create resistance against infections.
10. Treatment for Fever and Heatstroke – Being a cooling vegetable, lettuce helps in cooling down the body's temperature and is helpful in treating fever. Its green prana further helps in cleaning the dirt-red prana caused by fever, from all over the aura.
11. Preventing Hair Fall – Making a mixture of lettuce and spinach juice helps in strengthening the hair roots and preventing of hail fall.
12. Treating Headache – Having Lactucarium reduces headache. A mixture of lettuce juice and rose oil therefore if applied on the forehead and temples relieves headache to a substantial level. Green prana further helps in reducing pain.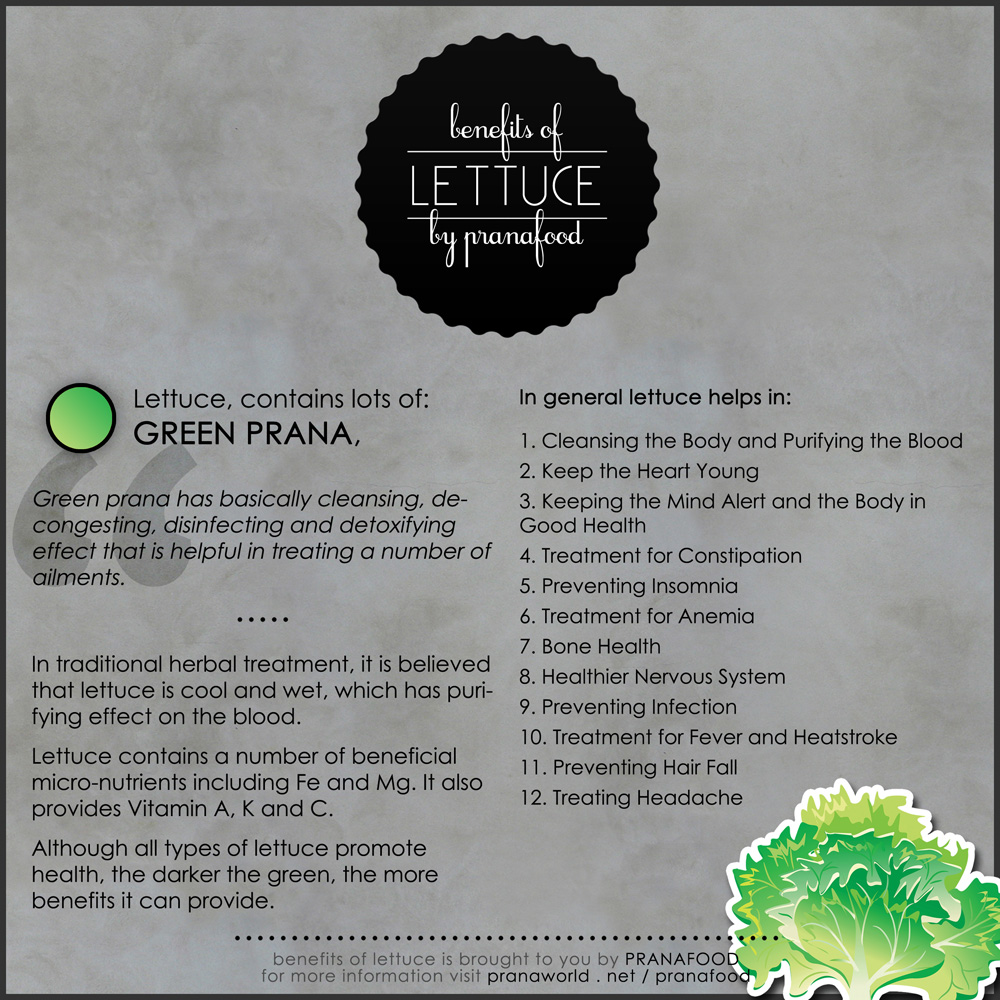 Although most of the facts mentioned above have scientific reasons behind them, these qualities are either directly or indirectly related to the qualities of green prana that is available in lettuce. The quality of all color pranas and their effects on the human body have been completely explained in Advanced Pranic Healing by Master Choa Kok Sui.

References
Master Choa Kok Sui. (1992). Advanced Pranic Healing. World Pranic Healing Foundation.
Sorour Aldin, M. (1971). The Great Medicine. Ataei Publications.
Kapoor, C. (2011). Benefits Of Lettuce. Retrieved from Benefitof: http://benefitof.net/benefits-of-lettuce/
Lettuce Nutrition Facts. (n.d.). Retrieved from Nutrition and You: http://www.nutrition-and-you.com/lettuce.html
Holalkere, P. (n.d.). The Top 5 Benefits of Eating Lettuc. Retrieved from Examiner: http://www.examiner.com/article/the-top-5-benefits-of-eating-lettuce
The George Mateljan Foundation. (n.d.). Romaine Lettuce. Retrieved from WhFoods: http://www.whfoods.com/genpage.php?tname=foodspice&dbid=61
Russell, T. (2010). 10 Surprising Nutrition Facts About Romaine Lettuce. Retrieved from Incredible Smoorthies: http://www.incrediblesmoothies.com/nutrition/10-surprising-nutrition-facts-about-romaine-lettuce/
Dolson, L. (2013). Carbohydrate Information for Lettuce. Retrieved from About: http://lowcarbdiets.about.com/od/carbcounts/a/lettuce.htm
Lettuce Juice Health Benefits. (2012). Retrieved from Health Juices: http://www.healthjuices.net/knowledge-base/lettuce-juice-health-benefits/