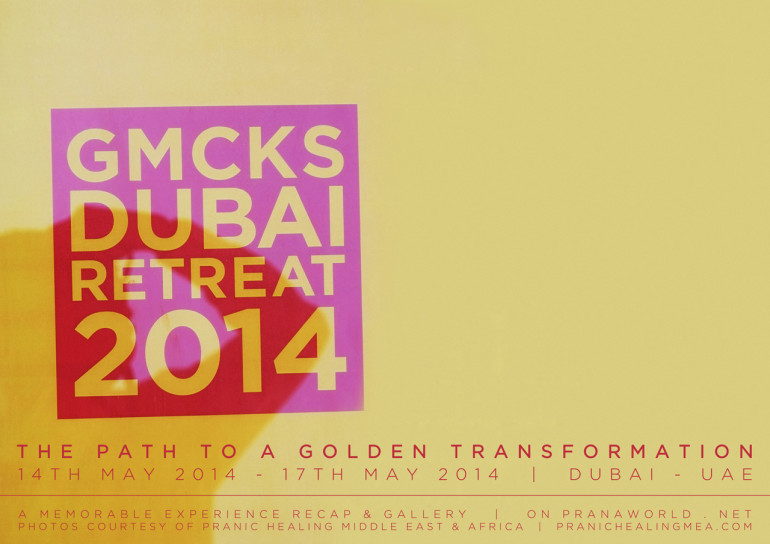 The Path to Golden Transformation
This year an unforgettable Wesak Celebration was conducted in Dubai, the land of Gold! The Dubai Arhatic Yoga Retreat 2014 with the motto of "The Path to Golden Transformation" started on the 14th May 2014 with a fantastic Wesak Celebration at the Hilton Al Hamra Beach and Golf Resort. 560 Arhatic Yoga practitioners from over 30 countries gathered together to celebrate this sacred event with a meditation guided by Master Choa Kok Sui.
The general retreat started on the 15th May with the soothing sound of the Adhan, a Muslim call for prayer and invocation, and continued by meditations, videos of Master Choa Kok Sui and talks by Acharyas. A thorough explanation about the Wesak, various purifications and inspirational talks were among the presentations given by the Acharyas.
Acharya Danny, Acharya Daphne, Acharya Faith and Acharya Hermie facilitated the whole retreat. Master Choa Kok Sui's children, Christine and Jason were also present at the retreat.
The Dubai retreat was distinctive from many other retreats conducted at various parts of the world because of its venue and environmental features that enabled the practitioners to experience various types of purifications including purification by water, earth, fire and air.
Purification by earth was one of the amazing features of the retreat with so many glowing experiences that were shared by the practitioners from feeling of relief and lightness to experiencing freedom, overcoming fear and feeling of being hugged by mother earth.
The effort of the team in providing many extraordinary activities such as safari, camel riding, Dhyan meditation in the desert and Arabic dance was truly appreciable.
The desert, full of peace, calmness and stillness was a perfect place for the Dhyan meditation with such a big group. The night sky with all the starts and huge shining moon, were adding to the beauty and the depth of the experience.
The venue and all the meals were luxurious, prosperous and delicious, making the whole retreat to be considered as a great treat by our dearest teacher, Master Choa Kok Sui to all his disciples. The Dubai Pranic Healing Foundation also generously presented a gift to all the Arhtaic Yogis, that was a photo of Master Choa Kok Sui, printed on gold sheets; so everyone left this memorable retreat with gold.
The whole Dubai retreat experience was truly special and amazing.
Thanks to Mr. Prakash and all the volunteers who helped in making it happen!
Click on the photos to enlarge!
Keep yourself updated for more amazing programs from Pranic Healing Middle East and Africa by visiting 

pranichealingmea.com
The photos are all courtesy of Pranic Healing Middle East and Africa.